Art at Work in Indonesia: Citra Sasmita
Contemporary Indonesian artist Citra Sasmita introduces us to her studio and the ideas behind her work currently exhibiting in '#Perempuan 2021'. Presented as part of the Castlemaine State Festival and with support from Project Eleven, this exhibition celebrates voices and unspoken stories of Indonesian women – a platform for artists to share issues that are not always openly discussed in Indonesia. Citra's elegant paintings build on traditional forms of representation, yet she radically places women at the centre and core of Balinese historical and existential narratives.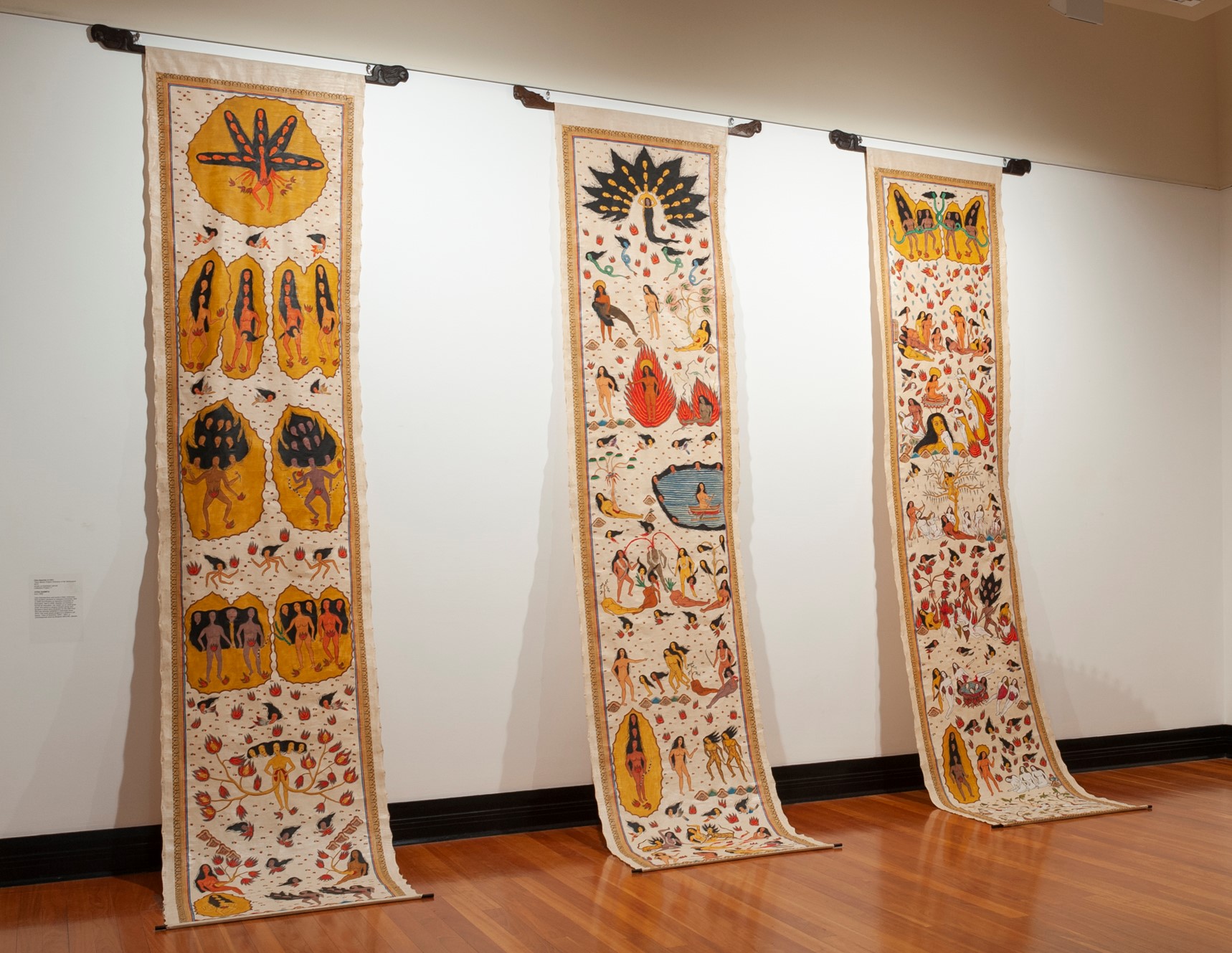 How long have you been working in Bali and what excites you about being there?
I am an artist born in Bali and have been active in the art world for almost 10 years. Bali is a learning and growing space for me as an artist. Balinese culture offers a wealth of knowledge and philosophy that I can develop in my works of art. Taking a critical perspective is the main foundation of my practice, I seek to objectively analyse reality and the social environment around me.
Can you please describe where you work? What can you see out of your window?
Although still living in Bali, I separated myself from the traditional social life of my birthplace and chose to live in the environment of immigrants from various parts of Bali. My studio is in a residential area for industrial and office workers. As the only artist working in this environment, it is interesting to observe the habits of the people around me and how they accept me as a female artist, something that is quite outside their usual experience. From inside my studio I can see how the housing arrangements are irregular and like a maze. Bigger houses signify social status and small houses are inhabited by families who struggle to support their entire family. There is a small paddy field which I imagine in the next 5 years will be site of a new house. This phenomenon usually occurs because the children of farmers cannot continue their life as farmers.
Tell us a little about your current work.
In my latest artwork, I continue my spirit and ideology of partisanship for women. Bali is a hugely patriarchal society, which is passed down from generation to generation.
I used to have difficulty speaking and expressing my critical ideas because my parents and society taught me to be passive and silent. Art was my way of salvation and changed my perspective: I slowly healed myself by conveying my ideas through art. Generally women artists have difficulty surviving within the centralised, masculine world of Indonesian art.
Can you share with us something of the story behind your work currently on view at Castlemaine Art Museum?
My work Timur Merah Project; Embrace of The Motherland seeks to redress the conventional representation of women in Balinese culture. I believe the heroic role and value of women has been misrepresented and underrepresented throughout history. Women are largely reduced to their domestic and sexual value. I firmly believe that patriarchy has been glorified into sacred texts and religious rituals, which has become the basis of state ideology. Canonical texts only reveal the heroism of men and the interests of the elite. In this work I consciously represent my ideological stance to place women as the main character and protagonist.
Do you start with an idea or does your work develop more intuitively out of the process of working with materials or forms?
I firmly believe that my ideas and intuition magically work and find the right momentum so that I can continue this long-term idea of the Timur Merah Project. The journey to dare to remain critical in art and to believe in the ideology of feminism in Bali, I admit, is not easy. Feminism in Bali has helped me to find the right language and courage to represent this idea of equality. In this work, I use the traditional Kamasan canvas, which is made from rice flour. This medium has been used in Bali since the first paintings were made in the 15th century.
What music or podcast are you listening to when you work?
I put my armor on, show you how strong how I am
I put my armor on, I'll show you that I am
I'm unstoppable
I'm a Porsche with no brakes
I'm invincible
Yeah, I win every single game
I'm so powerful
I don't need batteries to play
I'm so confident
Yeah, I'm unstoppable today
(Unstoppable - SIA)
Can our readers view your work in any way at the moment?
Feel free to visit my instagram @citrasasmita_work and my website.
July 2021