Terrace Projection: Zoe Scoglio 'Agri-Cultures'
29 July—16 October 2022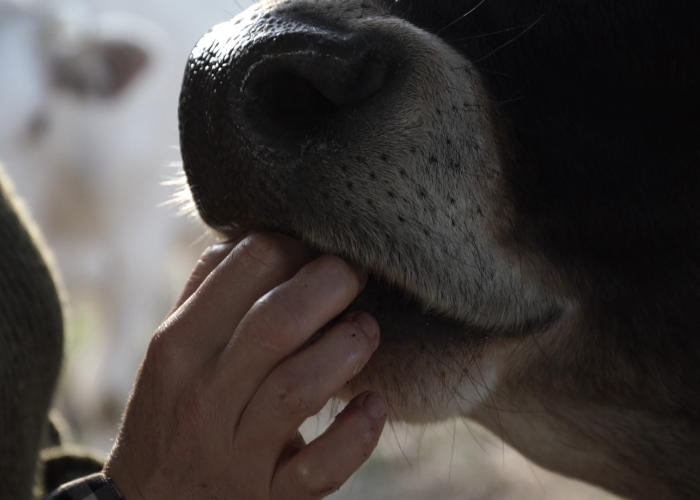 Image: Zoe Scoglio, Agri-Cultures, 2022, video still. Courtesy of the Artist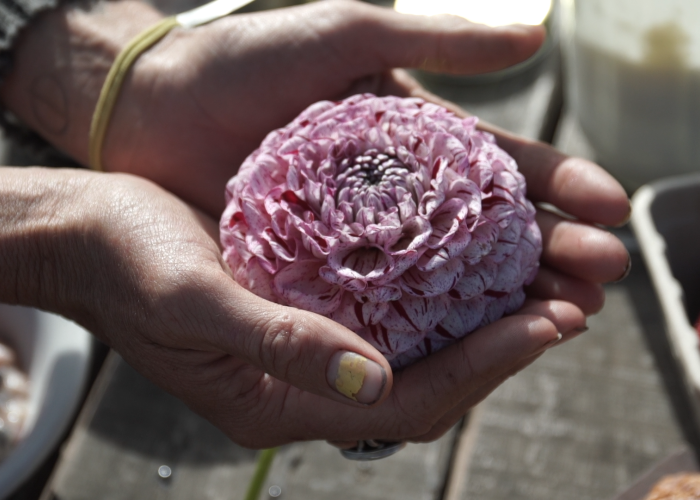 Image: Zoe Scoglio, Agri-Cultures, 2022, video still. Courtesy of the Artist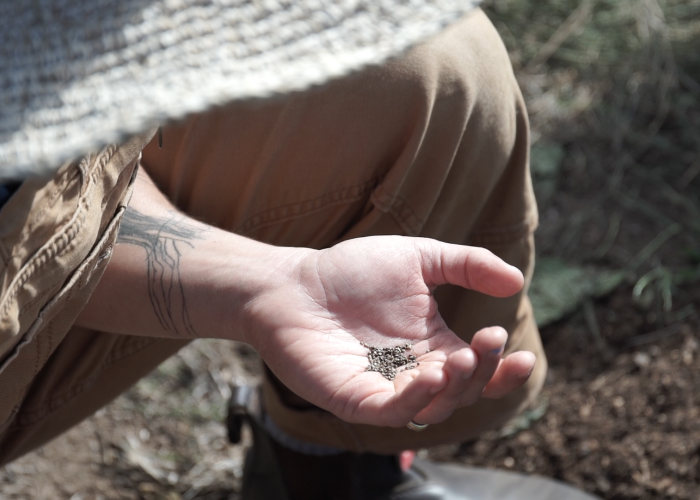 Image: Zoe Scoglio, Agri-Cultures, 2022, video still. Courtesy of the Artist
The second of our Terrace Projections – a new commission by Castlemaine-based artist Zoe Scoglio, Agri-Cultures
During the cold dark nights of winter, the Castlemaine Art Museum façade will be illuminated with video from the summer and autumnal days at Gung Hoe Growers and the Harcourt Organic Farming Co-op, from 6pm every night.
Agri-Cultures is a commissioned video work by local artist Zoe Scoglio in dialogue with local small-scale farmers Gung Hoe growers in response to the theme 'Industry'.
Focusing on the manual labours and tactile relations, this is a visual portrait of the daily regenerative wholistic practices and emergent cultures at the Harcourt Organic Farming Co-op.
As a volunteer at Gung Hoe Growers, this commission was an opportunity for Zoe Scoglio to enter more deeply into conversation and to further learn from and attend to the practices of daily care-full cultivation.
Scoglio witnessed their regenerative, reciprocal and wholistic approach, and the continuum between caring for the cultures within our guts, within the soils and within our social spheres.
This work attends to the metabolic flows of energy between stomach and soil, that nourish life in both a material and immaterial way. It also considers the workers and the community who produce the food to include the sun, rain and micro-biomes.


"What I'm coming to understand is that to grow food radically is to honour the relationships with all beings of a place, and to grow in such a way that does justice to the past, present and future expressions of this land."
– Claudia, Gung Hoe Growers Member, Harcourt Organic Farming Co-op Blog
"Farming is a deep act of service. With our hands and hearts, we are in service to the land, the soil, the water, the air, to the many who are part of our ecosystem and to our human community who we hope to feed. We are in service to both current and future generations. We are in service to the soil."
– Sas, Gung Hoe Growers Co-Founder, Harcourt Organic Farming Co-op Blog
Artist Acknowledgements
This work was made on unceded Dja Dja Wurrung Country. I acknowledge the deep and ongoing Cultures and care for Country by First Nations peoples and pay respect to all elders past and present.
Thanks to Mel Willard, Claudia Lang and the community that is Gung Hoe Growers and the Harcourt Organic Farming Co-op.


Terrace Projections
Through the Commonwealth Government's RISE funding, Castlemaine Art Museum will host Terrace Nights and Terrace Projections, a program of exhibitions, installations and events for the community. Using the medium of light, CAM is bringing contemporary images and ideas to the streets of Castlemaine. In a series of commissions, local and national artists will respond to a range of relevant topics such as car culture, First Nations and queer communities, industry, incarceration and young people.


Zoe Scoglio
Zoe Scoglio is an artist of European descent living and working on Dja Dja Wurrung Country in Central Victoria. Engaging diverse mediums in collaborative, conversational and ecological ways, she considers art as a site for community and collective (un)learning.
Her practice is grounded in a curiosity to touch the limits of the Western imaginary - to make perceptible the ways we are entangled within planetary, cultural and economic systems. She is interested in how ideas about the worlds we inhabit are informed by, and inform, the material realities we live within.
She questions how embodied artistic praxis can contribute to processes of deep organising, and alternative ways of being and relating on unceded lands in times of ecological collapse. Since moving to regional Victoria to be closer to her family, Zoe has been slowing to listen to and learn from who and what is already here, and to build relations in reciprocal, respectful and place based ways.
For more information about Zoe Scoglio's work you can visit her website here.


Gung Hoe Growers
Gung Hoe Growers farm on Dja Dja Wurrung land; this is land whose sovereignty was never ceded. We acknowledge all the traditional wisdom and care that has shaped and fed this land and its people for hundreds of thousands of years before us. We hope, through the regenerative practices we use, to care for the land and feed our community.
From the traditional indigenous farming practices to the Chinese market gardeners of the gold rush era and the orchardists that came after that, this region has a long food growing history. A Gung Hoe is a traditional hand tool that those Chinese market gardeners would have used to provide food for their community; it symbolises the small scale enterprise that we want to nurture. The Mandarin translation of Gung Ho is 'working together', the western interpretation is 'eager and enthusiastic'…we seek to embody both!
We strongly believe in re-creating a stronger food system that supports its growers and its eaters; we love our community and are passionate about growing real food that is grown with love in healthy, rich soil. Staring down the barrel of an extreme climate change future, we believe that organic and regenerative agriculture has a huge part to play in healing the land and climate, and feeding our communities. Industrial agriculture is responsible for over 40% of global carbon emissions, not to mention the loss of soil, habitat, biodiversity, and contamination of soil and water. We need to think and grow differently; wiser and lighter.
Gung Hoe Growers was established by Melissa Willard and Sas Allardice in April 2015, and become a member of the Harcourt Organic Farming Coop in 2018. Gung Hoe is currently tended by Mel, Claudia, Pip, Will, Deb, Scallywag and co.


Harcourt Organic Farming Co-Op (HOFC)
HOFC is a collaboration of diverse organic farmers who lease land on a single farm in Harcourt. We are passionate about learning our craft, feeding our community, and making direct and meaningful connections with our customers, for example through Community Supported Agriculture. HOFC is a group of farmers working together to regenerate our farm, feed our community, grow our potential and radically change the food system.
Current members are: The Orchard Keepers, Gung Hoe Growers, Sellar Farmhouse Dair, Carr's Organic Fruit Tree Nursery. Murnong Mammas also manage a bush foods garden at the Co-op.
We reckon this new way of farming is a viable path for ageing farmers (like HOFC landowners Katie and Hugh) who want to step back from active farming but don't want to sell the family farm, for emerging farmers who want to get started but can't afford land, and for customers who are yearning for a connection to the farmers who produce their food. In time we plan to share our model (but first we have to figure out if it works!).
Supporters
Restart Investment to Sustain and Expand (RISE) Fund – an Australian Government Initiative