Orbit: Alvin Darcy Briggs
30 September—14 November 2021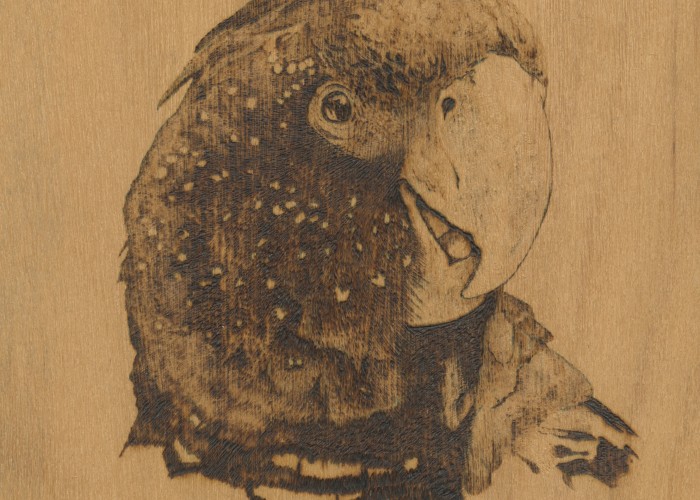 Alvin Darcy Briggs, Untitled (Red-tailed Black Cockatoo), 2020, pyrography on wood. Private collection.
This is the seventh exhibition in CAM's Orbit program; a series of exhibitions by artists who live and work in Central Victoria.
My Dad is Yorta Yorta, Taungurung and my Mum is Nario, Walbunja. I live and work in Castlemaine. I learnt my different crafts through family and Elders. I've been drawing since I could walk and have always been encouraged to draw. My Dad was always making artefacts, design and poker work and now I make artefacts too. He introduced me to the machine I use today which utilizes a heated wire to make free marks. This technique is called pyrography which means 'writing with fire'.
The large piece took me between 80 to 100 hours, using most if not all of the techniques I've learnt over the years. I've tried to capture the fragility and the power of the land and of what culture and knowledge we have left. I've used the realistic images of the Kangaroo and Emu in contrast with the cultural style of them both to capture their spirit, which are both important to the spirit of Australia. I've used a Tasmanian Devil skull at the bottom of the face to highlight the fact that they are also facing extinction and may be lost to time.
In my most recent work, I am continuing to celebrate native animals and birds in panel works and bowls. Since living in Castlemaine, I have also branched out into working in sculpture.
ADB, September 2021
Supporters
Creative Victoria
Castlemaine Mail