2022 Len Fox Painting Prize
12 March—12 June 2022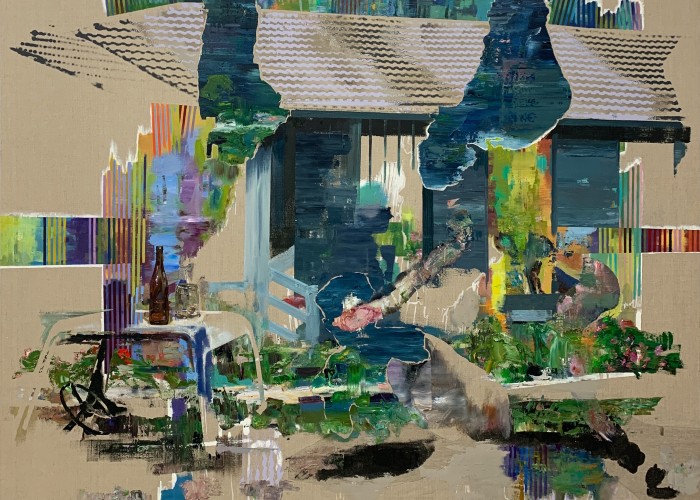 Winner Len Fox 2022: Greg Creek, Killing Jar 2021
LEN FOX PAINTING PRIZE 2022
The Len Fox Painting Award is a biennial acquisitive painting prize and is awarded to a living Australian artist to commemorate the life and work of Emanuel Phillips Fox (1865–1915), the uncle of Len Fox, partner of benefactor Mona Fox. The award is funded through a bequest from Mona Fox, with $50,000 awarded to the winner.
Congratulations to the Len Fox Painting Prize 2022 Winner: Greg Creek
Watch the announcement video here:
The shortlisted artists for 2022 are:
Zoe Amor, Kylie Banyard, Kim Barter, Andrew Browne, Richard Butler Bowdon, Lyndell Brown and Charles Green, Evie Cahir, Kevin Chin, Dale Cox, Rhett D'Costa, Jacki Fewtrell Gobert, Celia Fernandez, Emily Feretti, Robert Fielding, Hannah Fox, Jane Giblin, James Grant, Safak Gurboga, Katherine Hattam, Mark Hislop, Karen Holland, Casey Jeffery, Dena Kahan, Anthea Kemp, Nusra Latif Qureshi, Robert Maclaurin, Harley Manifold, Rob McHaffie, Nicola Moss, Elizabeth Nelson, Grant Nimmo, Lori Pensini, Marina Pumani-Brown, Adam Pyett, Steven Rendall, Julia Ritson, Lucy Roleff, Rachael Robb, Jennie Stewart, Adriane Strampp, Clive Stratford, Kynan Sutherland, Ross Taylor, Kate Tucker, Ebony Truscott, Deborah Walker, Marcus Wills, Renee Wilson, Alice Wormald, Christine Wrest-Smith, Michael Vale and Judith Van Heeren.
The Len Fox Award recognises and promotes the work of Australian artists pursuing the artistic interests and qualities of E. P. Fox. These include engagement with colour and light; ambitious connections with international developments in art; and, an interest in travel and an engagement with the cultures of diverse regions and peoples.
The Len Fox Award will be made to a painting judged to have addressed the interests of E. P. Fox as an imaginative, inquisitive and worldly artist. This is an acquisitive award, with the winning painting becoming part of the CAM Collection.


Castlemaine Art Museum is honoured to have Kirsty Grant, as the 2022 judge. Esteemed curator, writer and previous museum director, Kirsty Grant brings her wealth of knowledge of contemporary art as well as her knowledge of CAM's collection to consider this significant Prize.


EXHIBITION
The official exhibition opening of the shortlisted artists and announcement of winners via video will be held on Saturday 12 March. The exhibition will be held at Castlemaine Art Museum, 14 Lyttleton St, Castlemaine, Victoria, from Saturday 12 March 2022 to 13 June 2022.


PREVIOUS WINNERS
2019 Betty Kuntiwa Pumani, Antara
2015 Prudence Flint, Wash
2013 Judy Drew, The silk gown
2011 Lynn Miller, Winter storm, Bay St, Brighton


IMPORTANT DATES
Opening and announcement of the winner: 12 March 2022
Exhibition: 12 March — 12 June 2022
Supporters
The award is funded through a bequest from Mona Fox, managed by the Castlemaine Art Gallery and Historical Museum Trust (CAGHM Trust)