Inking Up | Rona Green, Deborah Klein & Clayton Tremlett
29 August—18 October 2015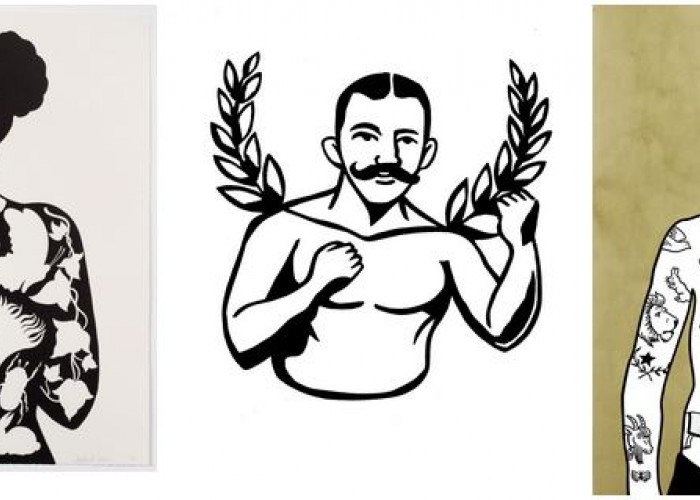 Inking up is an exciting print survey which presents the work of three linocut printmakers:  Rona Green, Deborah Klein and Clayton Tremlett at Castlemaine Art Gallery & Historical Museum. The exhibition has been curated by Clayton Tremlett.
Inking up is a slang term for getting a tattoo and also the printmaking process of inking a block in preparation for printing onto paper. Both techniques require bold outlines; one using a needle to embed ink under the skin, the other requiring tools to carve out areas that will not catch the ink.
Rona Green (Australian Galleries) and Deborah Klein have explored the notion of marks and memories embedded on the skin for a sustained period in their printmaking practice. 
Rona's work explores contemporary themes in body marking, albeit surreal, with animal heads on human bodies; with narrative tattoos that have connotations of Russian prison tattoos; and with an intricate code of markings and messages.
Deborah's work includes tattooed women, faces and silhouettes. Some of these works are based on women's sewing iconography and recalls Mehendi (The Indian process of body marking with henna, usually on the hands).
Clayton Tremlett has researched prisoners held in the Old Castlemaine Goal and their tattoos. He accessed the Public Record Office (Melbourne) and used this research to develop a series of portrait/images derived from photos, and detailed remarks on tattoos and body marks (all recorded in detail when a new prisoner is admitted to the Goal).
This work will be presented as a leather and cloth bound book which will have a similar style of entries to the original register of prisoners received at Castlemaine and Pentridge prisons between 1893 and 1902. It is entirely hand printed using linocut, letterpress, pen and ink then bound using traditional techniques.
All 16 people represented in the book were incarcerated at Old Castlemaine Gaol for a significant period of time. Clayton's work investigates how these images identify their host, what they tell us about a person who cannot communicate who they are other than through the symbols embedded on the skin?
Inking up poses the questions: Why do people get images tattooed on their body? Why do we define ourselves with statements which give an impression of who we are via symbols?
Images:
Deborah KLEIN Corporeal/Ethereal 2012, linocut, 60 x 50cm, Edition 23
Clayton Tremlett  Boxing man 2015, Linocut, 13 cm x 12cm
Rona GREEN The Surgeon 2010 hand coloured Linocut, 108 x 76cm Edition 17