Ginger Riley: The Boss of Colour
15 January—19 April 2015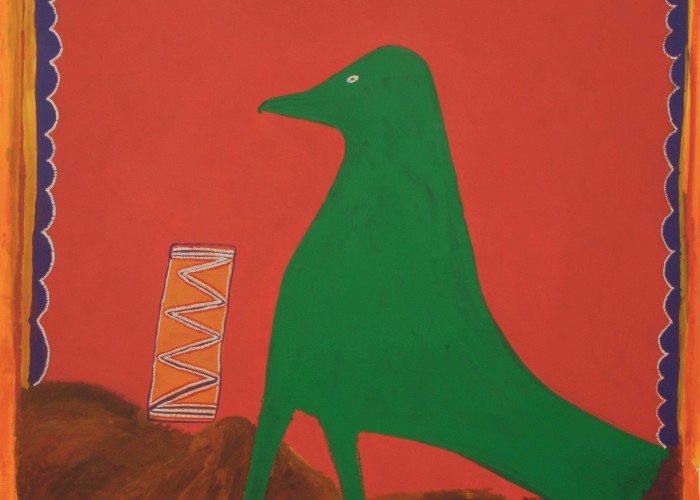 The exhibition presents Riley's vibrant and powerful depictions of country which challenged and changed Australia's preconceived notion of Indigenous art, and our landscape painting tradition. The intensity and energy of Riley's paintings is so strong that Australian expressionist David Larwill dubbed him, "the boss of colour".
Castlemaine Art Gallery is proud and privileged to present the exhibition, Ginger Riley: The Boss of Colour. This will be the first major exhibition of Ginger Riley Munduwalawala's work since the retrospective Mother Country in Mind: The Art of Ginger Riley Munduwalawala held at the National Gallery of Victoria in 1997, and the first survey exhibition in a public gallery since the artist passed away in 2002.
It is also the first exhibition of Indigenous art at the Castlemaine Art Gallery.
Riley (circa 1936- 2002) was a saltwater man, from Marra country in the gulf region of the Northern Territory. He is recognised for his strikingly bright and bold paintings of his Mother country.
In the catalogue essay, Director Jennifer Kalionis writes, 'The Boss of Colour reflects an institutional change in our regional art gallery which acknowledges the exhibition of contemporary Indigenous art as integral to a more reflective understanding and interrogation of Australian art, particularly the landscape tradition'.
The Boss of Colour is an exhibition not to be missed.
The exhibition was officially opened by Tom Mosby, CEO Koori Heritage Trust on Saturday 7 February 2015. It is accompanied by an illustrated catalogue with extracts from an essay by Tim Alves.  
Image:
Ngak Ngak Announces the Exhibition 1996
Synthetic polymer paint on canvas
200 x 219 cm
Private collection
© Estate of Ginger Riley
Reproduced with permission
Supporters
Arts Victoria
Public Galleries Association of Victoria
The S.R. Stoneman Foundation
Mt Alexander Shire
Bress Wine