DEAN BOWEN Day by Day – Paintings, Sculpture, Prints and Drawings
7 June—27 July 2014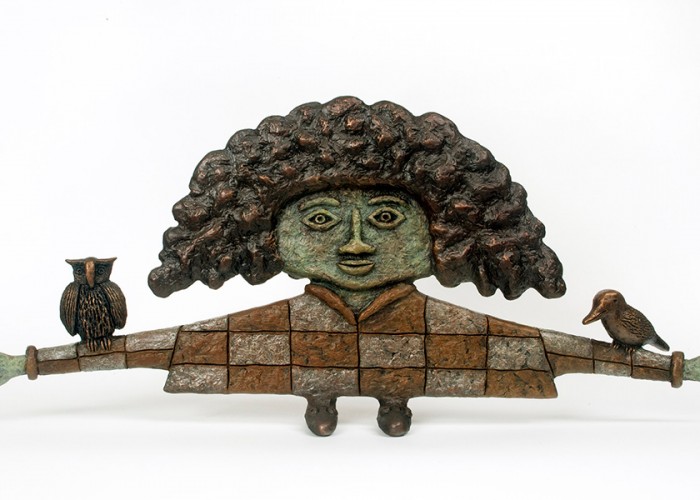 This exhibition draws together over 50 works by celebrated Central Victorian artist Dean Bowen. Bowen grew up in Maryborough before he moved away to study and establish is career as a professional artist.
Now based in Melbourne, Bowen is noted nationally and internationally for his quirky imagery based around animals, people in cars, aeroplanes, birds and insects.
His visual depictions bring playfulness and humour to the art world, often evoking childhood memories and making them very accessible to the viewer.
Castlemaine Art Gallery Curator, Ms Kirsten McKay, states in the exhibition catalogue: 'In Bowen's art there is an ease of recognition and transparent reference — we can all go on the journey'.
A focus on printmaking from the early 1990s helped to hone his style which now permeates his oeuvre. He has gained the greatest international success with his printmaking in Asia, particularly China, Japan and South Korea, where he has won numerous awards. Bowen's works are held in an extensive number of collections both here in Australia, including the National Gallery of Australia, and internationally.
In recent years Bowen has been enjoying working on larger sculptural works. The latest incarnation in his studio is the bronze Cat, which at over 3 metres in length will grace the front portico of the Castlemaine Art Gallery for the duration of the exhibition.
The exhibition is accompanied by an illustrated catalogue.
Image: Dean Bowen, Girl with Birds 2012, Bronze, Courtesy of the artist
Supporters
Harcourt Vallery Vineyard
Cantwell Property Castlemaine
Mount Alexander Council
Arts Victoria
State Government of Victoria
The S.R. Stoneman Foundation