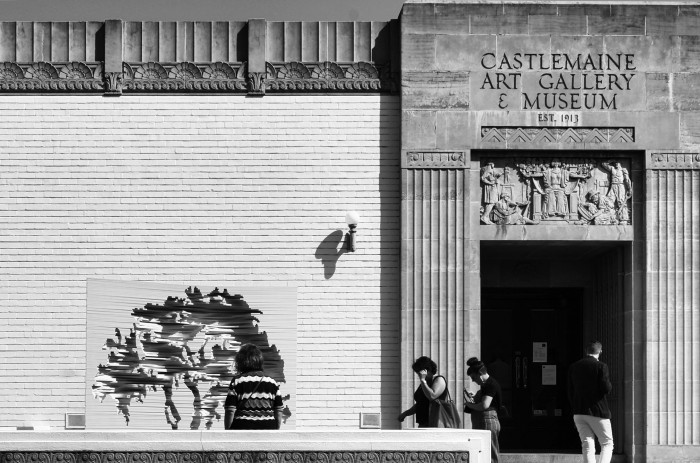 News
Masterplan Announcement
Friday 19 March
On 19 March 2021, Minister for Creative Industries Danny Pearson and Member for Bendigo West Maree Edwards visited CAM to announce a $100,000 Victorian Government grant to undertake master planning for the major redevelopment of CAM's 1931 building.
The master planning project will look at ways to celebrate and preserve the significant heritage features of the building, create new exhibition, event and education spaces and bring the whole venue in line with accessibility requirements.
This support is funded through the government's Infrastructure Planning and Acceleration Fund.
We are excited to begin work on the project!
Pictured: CAM Director Naomi Cass, Minister Pearson, CAM Chair Craig Mutton, and Maree Edwards.
Read more
Funding Success for Exhibitions Program
Friday 7 May
On Friday 7 May Castlemaine Art Museum was announced as a recipient of $267,750 in funding to support the development of two major exhibitions and a projection-art program over a two-year period.
This funding is part of the Federal Government's $25 million Restart Investment to Sustain and Expand (RISE) fund, targeted at getting Australia's creative sector to bounce back from the impacts of COVID-19.
The 'Future Beacon' project will include seven artist's commissions of projections onto the exterior facade of the building, an exhibition of contemporary indigenous art, and an exhibition of prominent artist David Rosetzky.
The funding will also support the employment of a part-time curator, a public programs coordinator, and an indigenous curatorial role.
Naomi Cass, CAM Director said "We are thrilled to receive support from the Federal Government to RISE to community expectations! This grant will enable CAM to deliver a suite of exciting commissions, working with First Nations artists and mid-career artist David Rosetzky, bringing CAM's significant historical building and streetscape to life, for the pleasure of the local community as well as visitors to the region".
Craig Mutton, CAM Chair said "Rise funding not only enables CAM to bounce back in an ambitious and relevant manner as a 'Future Beacon' in Central Victoria but also gives tangible confidence in the strategic and artistic vision of the organisation."
Projects will commence in September 2021.
Read more
New Website and Graphic Identity
Friday 14 May
Castlemaine Art Museum has a proud and distinct history having been created by its community as both an art gallery and a historical museum.
Intersections between art and history position CAM to be Australia's leading regional art museum in the sphere of bold curation that brings both art and objects from the past and present into contemporary conversations.
Development of the new website and graphic identity is the next step in CAM's continuing revitalisation, and has been developed through collaboration with the dynamic arts publisher and contemporary art commentator Art Guide Australia and designers Jack Loel and Graham Meadowcroft from Caption Studio. We acknowledge the excellent design thinking contributed by Jack Loel.
True to CAM's aspiration to be a leader in the intersection between history and the contemporary, the new logo builds on the strengths of previous design by referencing CAM's cherished Art Deco Neo-Classical building while moving to a more contemporary graphic style. We love the fact that it both celebrates CAM's history and looks to the future.
It has been a great pleasure over the last two years to present CAM's collections in new ways that unite the art and social history collections. Presenting the work of First Nation's artists as well as significant artists from Central Victoria has also been enormously popular.
We invite the community to explore the new website, to share your thoughts on the site, and get in touch with any insights you may like to add to our catalogue information. We also welcome community expressions of interest to write a Reflection on the collection for our ongoing series.
Read more